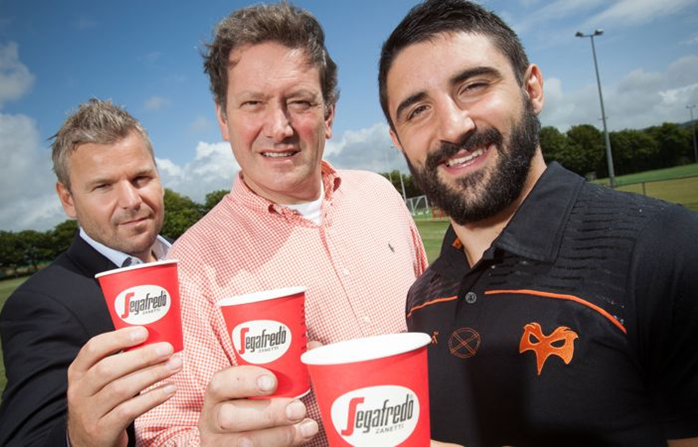 Ospreys Rugby today announced details of a new commercial partnership with one of the world's largest coffee companies.
Segafredo Zanetti UK, part of Massimo Zanetti Beverage Group, the largest privately owned coffee company in the world with group sales exceeding €950million in 2012 alone, will feature on the new-look Ospreys jersey which is launched on Friday, with the logo on both shoulders.
The commercial partnership between Segafredo Zanetti UK and the region coincides with them becoming the official coffee supplier to Liberty Stadium, supplying to all hospitality and concourse areas.
Yarnie Guthrie, Commercial Manager at Ospreys Rugby, said:
"We are delighted to be able to announce this new partnership with Segafredo Zanetti UK. They are a true global player in the coffee industry and this partnership utilising the Ospreys' sporting footprint to help grow its UK operations is recognition of how highly regarded the Ospreys are.
"The Segafredo logo and product will be well known to many of our supporters, particularly from holidays on the European continent where the company is a market leader.
"The owners of the company are from Veneto, a true rugby region, and although this is their first foray into rugby sponsorship they share the same traditional ethics and values as Ospreys Rugby. This partnership increases our ties with Italy, where we have strong commercial and rugby relationships with a number of organisations and rugby clubs.
"This is real coup for our business and we look forward to a long and successful partnership."
Brian McGregor, Sales Director for Segafredo Zanetti UK, commented:
"We are delighted to be associated with Ospreys Rugby. One of the things that makes Segafredo Zanetti stand out in the coffee world, is our global organisation's involvement in every element of the coffee process and in Ospreys Rugby we recognise an organisation involved in every element of rugby.  We share similar visions and are very well matched."
Pictured above are (L-R) Yarnie Guthrie, Commercial Manager of Ospreys Rugby, Graziano Chiappa (Segafredo Zanetti UK) and Italian international Tito Tebaldi.
At the end of last season, Graziano Chiappa from Segafredo Zanetti UK visited Llandarcy to fit a new coffee machine for the team and train them how to use it.